Concept
Rikkyo University's Contemporary Psychology
Human studies for the 21st century focusing on Mind, Body and Visual Imagery
What is it that makes us human?
The College of Contemporary Psychology reexamines the age-old question of what it is to be human within the context of diverse contemporary social environments. The mind and body are deeply interrelated and mutually supportive. They are also constantly engaged with, and affected by, the surrounding social and natural environment.
A diverse and holistic perspective
Within the context of this interrelationship between mind, body, and environment, the College of Contemporary Psychology aims to determine the essence of humanity by searching out new forms of knowledge that integrate science, philosophy, and the arts.
Three core themes of the College of Contemporary Psychology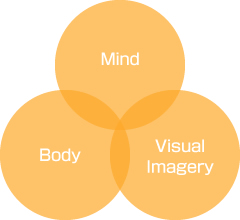 *1 The three core themes explored: mind, body, and visual imagery
Mind
We now live in an age where virtually everyone is beset by various problems of the mind and spirit. Psychology has long sought to develop an holistic understanding of the human being through the scientific study of mental activities and behaviors[*2]. Now more than ever, there is an acute need for the wisdom that will help us to unlock the unlimited potential that lies hidden inside us.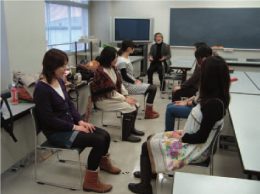 *2 Working to encourage communication Experiential learning on self-expression and understanding others (Clinical Psychology)
Body
Interest in the human body and physical expression has recently been growing around the world. This seems to indicate that society as a whole is beginning to feel the need to take a closer look at the mind and its relationship with the body. The College of Contemporary Psychology regards the study of the mind in the same light as the study of the body, and is attempting to develop a new form of human studies.
*3 The body is a means to express freedom and creativity Students practice dance in the College 'Loft' building
Visual Imagery
The College also explores the world of visual images, which have a significant impact on the mind and body. Our sensory perception is where the mind and body meet, and trends in visual images, a form of machine-based perception[*4] which has had an immeasurable impact on humans since the 20th century, is another theme pursued at the College.
*4 Visual imagery as machine-based perception
Department of Psychology and Department of Body Expression and Cinematic Arts
Both departments continue to pose the question of what it means to be human based on the three core themes of mind, body, and visual imagery. The active integration of various approaches is essential to the creation of a new type of human studies for the 21st century.
The Department of Psychology guides our exploration of the mind and humanity through scientific experiments, surveys, and testing.
The Department of Body Expression and Cinematic Arts guides our exploration of the body and visual images through philosophical thought, technical practice, and the production of creative works.
Learning Strategy
Focus on experimental research, production and performance
The College of Contemporary Psychology enhances students' knowledge and teaches them to identify problems based on the integration of philosophy, science, and art. At the same time, it provides hands-on, experience-based classes and workshops incorporating psychological experiments[*5], production of visual works, and practical physical techniques.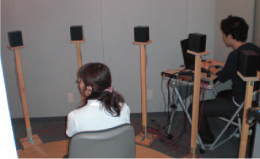 *5 Psychology as a science Psychological experiment measuring the precision of humans in sound source positioning
Fostering real-world skills and sensibilities
The College aims to cultivate in students a practical sensitivity to the events of the real world through fieldwork and private sector collaborative programs. We also aim to equip students with basic skills conducive to selecting a future career.
Integrated developmental courses geared towards new human studies
In order to educate students with a focus on the core philosophy of perceiving human beings on the basis of the mutual interaction of mind, body, and environment, the integrated developmental courses of Contemporary Psychology can be taken by students in both departments.
Multifaceted approaches to contemporary social issues
The College's diverse teaching faculty presents lectures on various contemporary social issues concerning the mind, body, and visual imagery from different perspectives each year, encouraging students to continually come up with original solutions.
Exploring humanity through scientific study of the mind Department of Psychology
Psychology is a complex and multi-layered discipline comprising numerous fields of study, including philosophy, medicine, physiology, and statistics. While it may come as a surprise to some, psychology often emphasizes scientific approaches.

Despite occupying a place in the humanities, psychology is a highly scientific discipline where, for instance, data obtained from an experiment is processed using statistical methods[*6] then subjected to logical analysis in order to reach conclusions.

Another important role of psychology is to consider how actual social, industrial, domestic, and academic settings affect the human mind. For example, exploring the causes of rail accidents and plane crashes[*7] not only from a mechanical aspect but also from a mental health perspective is an exercise in psychology, as is considering what type of handle should be attached to a door to facilitate its opening. Psychology concerns itself with all of the circumstances and situations in which we humans live, and carefully observes and analyzes our mental behavior. In short, psychology is an objective yet very human academic discipline.

Clinical psychology involves the treatment of a diverse range of people with mental illness; the number of which has grown considerably as modern society becomes ever more complex. This in turn has led to a rapid rise in the number of cases requiring clinical psychologists[*8] and other experts versed in psychology.

Furthermore, cognitive psychology[*9], which has recently received attention worldwide, has opened up new possibilities for conventional psychology by demonstrating close ties to cutting-edge neuroscience and computer science.

Located at Rikkyo University's Niiza Campus, the College of Contemporary Psychology is equipped with the latest experimental equipment as well as a range of other facilities. In terms of clinical psychology, the campus contains the Center for Educational Testing and Psychological Consulting which provides actual clinical services to members of the community.

*6 Statistical methods
Methods to describe phenomena through numerical expression of data, and to measure typical events through numerical analysis. Statistical methods are essential for validation and scientific research.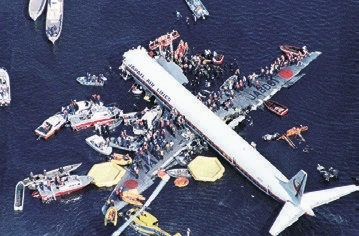 *7 Causes of rail accidents and plane crashes Psychology uses experiments and surveys to study the primary factors and preventive measures of human error which can potentially lead to accidents (photo supplied by Kyodo News).
*8 Clinical psychologist
An accredited qualification launched by the Foundation of the Japanese Certification Board for Clinical Psychologists in 1988. Qualified expert clinical psychologists deal with psychological issues using clinical psychology knowledge and techniques.
*9 Cognitive psychology
Cognition refers to intellectual processes such as memory, attention, thought, language, and learning. Cognitive psychology is a leading branch of psychology involving interdisciplinary research with, for example, computer science, neuroscience, and linguistics. Rikkyo University hosted the 7th Annual Meeting of the Japanese Society for Cognitive Psychology (the poster at right was designed by students from the College of Contemporary Psychology).
Innovative expression of human perception, body and memory Department of Body Expression and Cinematic Arts
'Body Expression and Cinematic Arts' is a totally new field of learning. Although it is, as the name suggests, a hybridized discipline integrating visual images and the body, it is not a vocational specialty designed solely for movie and theater production.

The discipline's most distinguishing trait lies in casting a detailed analytical and creative eye over the thinking and expressions as human actions that unfold in the background of visual and physical expression; an approach previously lacking from conventional humanities.

The Department of Body Expression and Cinematic Arts is therefore the mutual product of visual and physical expression in which students sometimes learn the practical and methodical elements of various topics from teaching staff who are also active creators working at the cutting edge of artistic expression such as imagery, theater and dance; and other times learn the intricate theoretical aspects from teaching staff who are also researchers in a diverse range of fields relating to visual imagery and the body such as philosophy, psychology, linguistics, and psychoanalysis. In addition to constant repetition of theoretical inquiries and practices on visual imagery and the body, the department takes an anticipatory approach to the development of rapidly evolving digital technology and actively conducts cutting-edge research towards the next generation of ultra high-definition video (UHDV)[*10] and motion capture technology[*11] which appear set to further enhance the potential of human sensory perception and expression.

The Department is fully equipped with the latest machinery and equipment to enable the above-mentioned activities -- from the theater-type classroom for cinematic art classes boasting some of the country's leading equipment, to the theater classroom for body expression classes catering to theater and dance training and recitals. It also features an unrivaled environment including filming studios and the latest video editing equipment. The Department is therefore set to produce the next generation of visual creators and expression artists who will spread this new discipline of Body Expression and Cinematic Arts around the world.

*10 Ultra high definition video (UHDV)
A new digital video system using 4K/8K pixel resolution which far exceeds existing high-vision broadcasting. Research is currently progressing on practical applications for UHDV in next-generation, multi-purpose, ultra-realistic, big-screen video. The above photo (supplied by Sony Corporation) is the latest 'SXRD' Sony 4K projector installed at the Niiza Campus Loft 2.
*11 Motion capture technology
This technology uses multiple infrared cameras to measure human movement as 3D data and uses computer imaging technology to convert the data into video. It is also used in functional design applications such as video game software and prosthetic limbs.